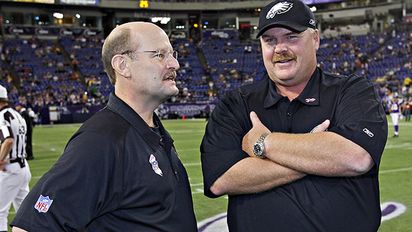 Two weeks and two halves highlighting what looks like two different teams. The first team to take the field is the Vanilla Vikings, complete with a pared down playbook and a "nothing to see here" demeanor. This is the team fans hate. The one that looks destined to be heartbreaking. But, it's really only fifty percent of the real deal.
When you sit back and thoroughly examine the first two weeks of Vikings football in 2009, taking into consideration the context of the coaching "big picture," what you'll begin to see is fruit from the coaching tree that brought Andy Reid, Jon Gruden and Brad Childress to head coaching positions in the first place.
Hold your cards close to the vest; hang tough through the first half, not showing the opponent what you're really holding. Once they've settled into their game rhythm, break out the real deal in the third quarter and turn on the jets.
That's the philosophy that took Jon Gruden to multiple Championship Games, including the Big Show. It's the same style that put Andy Reid's Eagles in the NFC Championship Game four times in the last ten years and, if played correctly, will be the style that lands this year's Vikings in the Superbowl.
Say what you will about Childress, but he has improved this team every year he's been here. He's held the wheel and steered this team from clunker to hot rod and if all goes well, he'll cross the finish line with a shiny new piece of jewelry.
Now, the last two opponents haven't been the best of the best, by any stretch, but they've not been pushovers either. However, the first real test of Chilly's Hold 'Em style will come next week, when Mike Singletary's Punch 'Em in the Mouth style crashes into the Metrodome.
What's always fascinated me about football is how team "a" can whoop team "b" then lose to team "c" who just lost to team "a". While many people chalk that up to the generalization of Any Given Sunday, what it comes down to is coaching style, talent and execution.
There are more ways to direct a game of football than I can count. From 'West Coast Ball Control' to 'Spread 'Em and Air It Out' to 'Run and Shoot' to 'Ground Pound' and on and on, the possibilities are literally endless. That goes for defense, too.
Run and Shoot might beat West Coast one week, but if poorly executed the next week, it will lose to Spread 'Em. So, what happens when Chilly's Hold 'Em meets Singletary's Punch 'Em in the Mouth? It'll come down to two factors: talent and execution. The Vikings have them in the talent category and if we can have yesterday's Brett Favre and last week's Adrian Peterson, the other category will be ours as well.
-Mike Bullock