Today's game will be intriguing in that Brett Favre still needs to build his chemistry with the receivers, John Sullivan and Phil Loadholt will have their first regular season test against a live defense and Brady Quinn will do his best to pick apart a stout Vikings secondary that only a few short years ago was woefully unsuccessful at stopping the pass.
But that's not all.
Here are a few "games within the game" that should create a smile or two for the Vikings faithful:
1) Rookie Center Alex Mack will make his NFL debut against these fellas:
2) Rob "I can't stop the run with a cement wall" Ryan has spent the last several weeks trying to find a way to make sure this doesn't happen over and over again:
3) Third year left tackle Joe Thomas will do his best to stop this from becoming overly repetitious: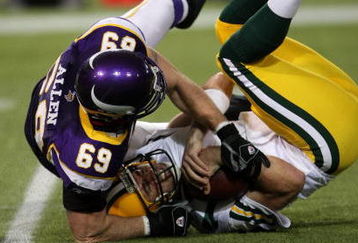 4) And the vaunted Vikes D will make sure there's plenty of possession time for this:
When it's all said and done, the Minnesota Vikings might face a few surprises from the Cleveland Browns, but one of those won't be a zero in our "W" column.

-Mike Bullock