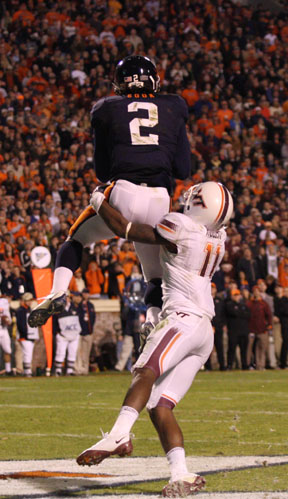 By Rob Leath

Picks: Chris Cook (2nd); Toby Gerhart (2nd); Everson Griffen (4th); Chris DeGeare (5th); Nate Triplet (5th); Joe Webb (6th); Ryan D'Imperio (7th)

The Vikings have a well-stocked roster, and it looked as though they were more interested in attaining quality over quantity despite the depth of the 2010 draft. They kicked things off with Chris Cook, whom they've been high on throughout the whole process. Cook burst onto the scene this year after missing 2008 due to academic issues and really cemented himself as a top cornerback prospect. The Vikings have a huge need at the position with Cedric Griffin's 2010 in doubt and Antoine Winfield aging. Cook is versatile (he could move to safety at some point) and gives the Vikings size and youth in the secondary.

The Toby Gerhart pick raised some eyebrows – including my own – but it shows that the Vikings made replacing Chester Taylor a priority. Gerhart won't be the receiving threat that Taylor was, but he's a bull and should be able to absorb some carries and potentially extend Adrian Peterson's football lifespan. In a two-back league, the Vikings now have one of its best tandems. You can make a case that spending a premium pick on a pure backup is questionable, and that's valid; but Gerhart is another weapon in an offense that is loaded at the skill positions.

The 4th round netted an elite talent who fell due to motor issues: Everson Griffen. Nabbing his type of talent this late is a great gamble, especially with Ray Edwards potentially moving on sometime soon. You would have liked to see more focus on the offensive line given McKinnie's age (he's already on the decline and was overrated to begin with) and the upgrade needed at right guard, but the Vikings waited until Round 5 to add Chris DeGeare, who's got the girth they love in their lineman and should provide depth at both guard spots.

GRADE: B -
Minnesota was clearly interested in addressing their most glaring needs – perhaps signaling that they're gearing up for one more run with a roster that's built to win now. This draft will always be remembered for what could have been if Jimmy Clausen develops into a top quarterback, but for now, it looks as though the Vikings added some quality talent, even if none of them ever become superstars.